Themed sets are kind of hard to come by nowadays. I do enjoy a themed set where every card base, insert, game used, autos, are all based off of one central theme. My favorite themed set actually came from 2009 and came from Press Pass. That set is 2009 Press Pass Wheels Main Event.
When you think "Main Event" I hope your minds go to the place mine does. Poker. I love poker. Maybe because I'm actually good at poker. In 2008 I came in 4th place in a poker tournament with the top players in Oregon. I haven't played much since then because I met a lady I really like spending my time with, but I still love playing poker.
The design by Press Pass really incorporated poker and it really stood out as the main theme. I'll admit I don't watch racing that often, but I will watch the big races of the year. I use to go to Stafford Speedway in Connecticut every once and awhile to watch the races when I lived back there. I know the big names and which cars to watch. I just can't sit still and watch racing. But when I saw this set came out, I knew it had to be my first box of racing cards.
Here are some of the designs from this set.
This first design is really a great idea. Put drivers on 52 cards and insert them into the set. Collect the whole set and you have your very own NASCAR deck of cards to play with. Everyone loves playing cards and has at least a deck of cards in their house. Having a poker game with your beer buddies who love NASCAR? Bring out this deck of cards for your high stakes games and it's time to rumble.
Jackpot is what it felt like every time I pulled one of these beautiful insert cards. I believe inserts were one a pack so I had a ton of Jackpot moments. These cards highlight those who won races in 2009 with pictures of them holding up their hardware for turning left the most times in the fastest amount of time. Jimmie Johnson has quite a few Jackpot moments and I love the look inside the poker chip with quad aces.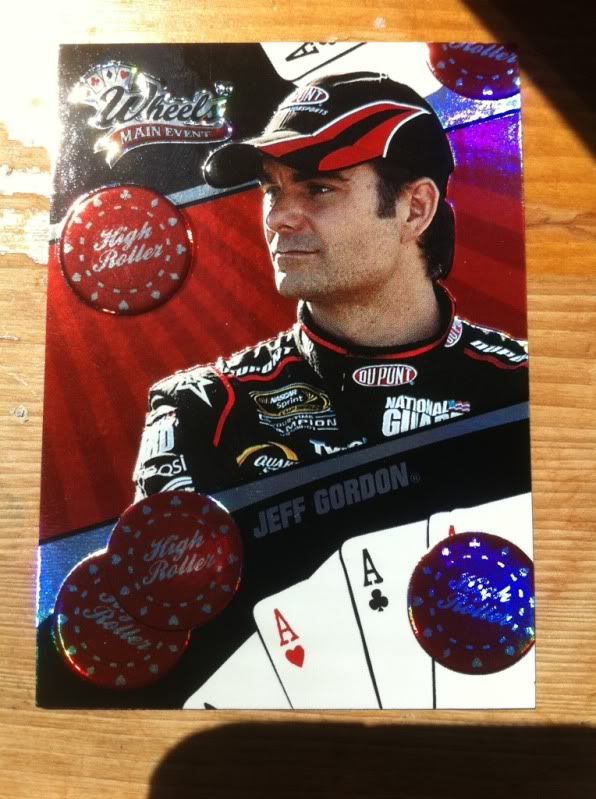 High Rollers are the ones with most money and play for keeps. This card exemplifies that. It has somewhat of a Chrome finish to it with the chips and driver raised off the card. The reflective surface looks awesome and it isn't overpowering like foil board. This is really a nice looking card. I love the poker chips dumped everywhere across the card. Reminds me of the movie Rounders when he's throwing some chips up in the air.
What's a poker themed set without poker players? Phil Ivey is in this set amongst other top poker players. Also randomly inserted were poker player autographs. If you found a redemption, odds are it wouldn't get fulfilled though. I pulled a Chris "Jesus" Ferguson autograph redemption. I subsequently lost the redemption as Press Pass makes you actually mail it in. I can't keep track of things. But it's okay, as Jesus never actually signed the cards. Neither did Phil Ivey. It's sad for a poker fan like me.
But I love this set. The theme used throughout was amazing. A lot of Press Pass NASCAR fans weren't happy with the theme that year, but I believe Press Pass uses a new theme every year for this Wheels series. Although I'm not a huge racing fan I think Press Pass did a great job with the design and execution of this set. There are even more great cards in this set as well, I just didn't take a photo of them as they are in a set box sorted away somewhere. These were duplicates. If you are into racing even the slightest and love poker, this is a great set to see if you are interested in collecting racing cards.