It's not really a secret collection, but it's something not many people collect when it comes to cards. These cards sell out their cases consistently. I once sold a card I pulled for $400 on eBay. These cards are not a joke or gimmick but will bring in a ton of money if sold correctly. This is a sports card blog, but these aren't sports cards.
I'm talking about Benchwarmer Trading Cards. I was introduced to these cards in 2008 when the staff at Sports Card Forum went to the National Sports Collector's Convention in Chicago and came back with this beauty for me: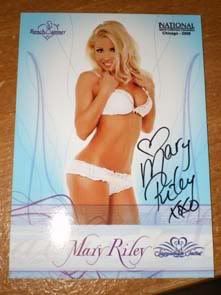 Mary Riley, one of the top promoters for Benchwarmer and is probably in every product. Little known fact, she happened to grow up a town over from me in Connecticut. I knew when I received this card after a giveaway that I had to collect her. So I did what any guy in his 20s would do. I bought a case of 2007 Benchwarmer Gold Edition.
That was the start to my Benchwarmer collection. A ton of autographs, some bikini swatches, and kiss cards. I was in it for the long haul. I was now able to trade and sell for what I wanted and needed. I even started smaller collections of Jennifer Korbin and Nikki Ziering to start, especially since I pulled an awesome autographed kiss card from Nikki Ziering.
I traded my way towards bigger collections of the girls I wanted to collect and eventually ended up with some pretty nice cards. I bought an occasional box here and there to supplement my trade bait and to try and pull more of my girls. Benchwarmer cards at one point even became my main focus of collecting.
When 2009 Benchwarmer Limited came out I loved the cards they had. I decided to grab another case. In this case I actually made my money back plus extra. I pulled a Brandy Grace Autographed Bikini Swatch numbered to 5 which I sold immediately for $400. I pulled a Jennifer Walcott School Girl swatch which I sold for another $100. Those two cards practically paid for my case. At the time I had started collecting Spencer Scott and I was able to trade for some of her high end cards with another pull in that case. Yes, Benchwarmer has high end cards.
Right now I have kind of been in a Benchwarmer lull. I haven't bought any in awhile and even sold off my Jennifer Korbin, Nikki Ziering, and Spencer Scott collections. I probably won't ever move my Mary Rileys or a personalized card from the 2009 Convention in which Benchwarmer model Lisa Gleave personalized an autographed kiss card for me and even said hi to me on camera for Sports Card Forum and posted it on YouTube.
I plan on buying some again someday, it's probably one of the most fun products to open. At least if you're a male. Brian Wallos does a great job with the product time after time and always tries innovative new cards for his products. His models sell the product itself, but he does a great job with signing popular models. He's grabbed WWE and TNA girls, girls from TV and Playboy, just about anywhere.
If you haven't tried a box yet, I recommend it. It's definitely a fun experience.