As I state in the below video, I normally don't do mail days unless there is something really nice in there. I mean, who wants to see some common jersey or rookie autograph no one has heard of. I'll keep my mail day videos to be something special to look at. This time is one of those times.
In case you can't view the above video, here is how I won this bad boy. Sports Card Forum held a VIP Contest for it's VIP members and had it sponsored by Panini. The prize was well worth how in depth this contest was. Let's talk about the contest first. The contest involved the entire Stanley Cup playoffs. Every game each day I had to guess one person who would score a goal. Every game. That's a lot of research and commitment. I knew I had it in me, I mean, I'm a hockey fan and love the NHL Playoffs. I think it's the best playoff system in sports next to the NCAA Basketball Tournament. Anyway, long story short, I won with 36 total goals correctly guessed over the course of the playoffs. Second place finished with 33. It was a long battle in which I was victorious. And to the victor goes the spoils.
This is not a PC card but will be used to get a PC card or towards my box breaking fund for the site. I wish I could give it away again, but I can't afford to right now.
So again, I would like to thank Sports Card Forum and Panini for holding this contest. This is one of the nicest  1 of 1 cards I've ever had in my possession. Here are some pictures for those who can't view YouTube at work, don't worry, I got you guys covered.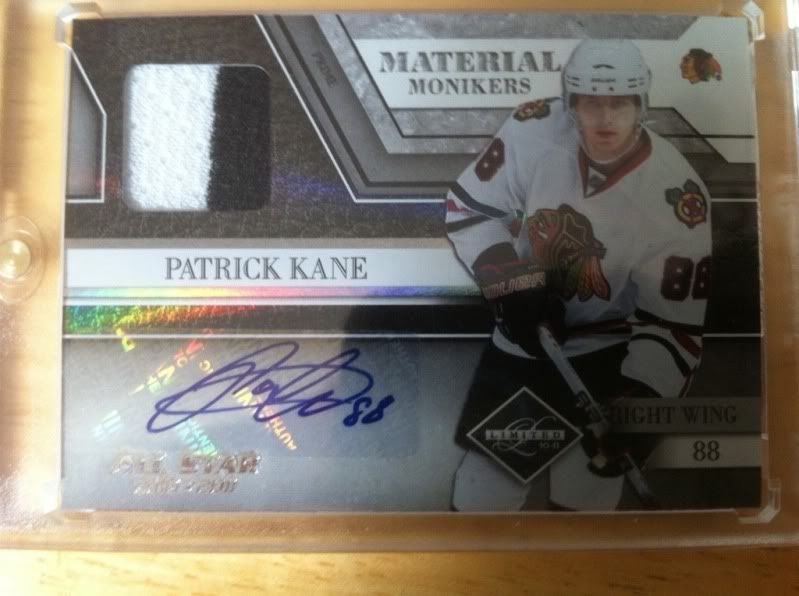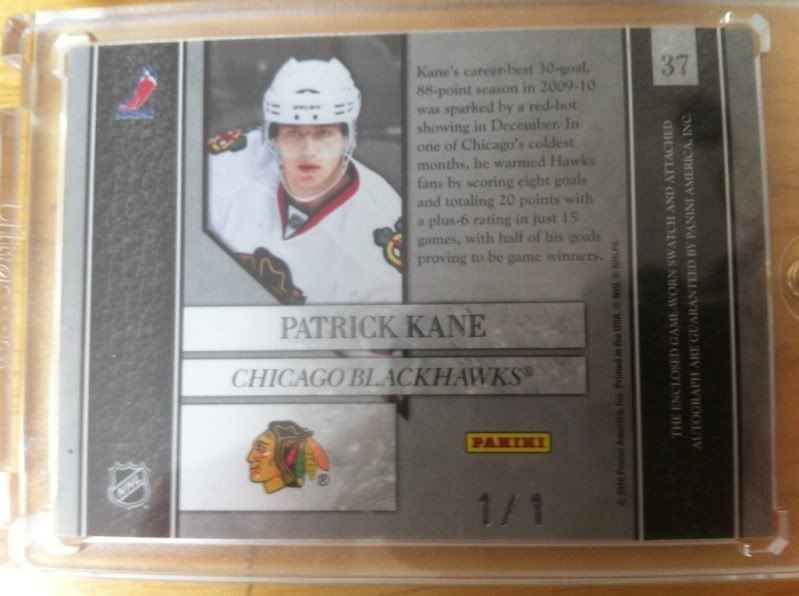 2010-11 Panini Limited Material Monikers Patrick Kane Autograph/Prime Jersey 1 of 1
Sweet.