I am posting this 1 minute before the supposed end of the world. That way, when I'm raptored, eaten by a raptor, my work will live on. Especially the awesome beginning to video break.
Anyway, 2010-11 SP Authentic hockey brings you the clean, slick, design Upper Deck brings year after year to the SP Authentic series. This year's rookie crop in hockey is the best since 2005-06 so the fun in this break could be endless. Each box has 24 packs per box with 6 cards per back. You are guaranteed at least 3 autographs, with at least 1 being a Future Watch autograph. Some autographs may be accompanied by a patch. You can pull rookies, veterans, or legends. As always, SP Authentic is a fun product to break and here's the results.
Base: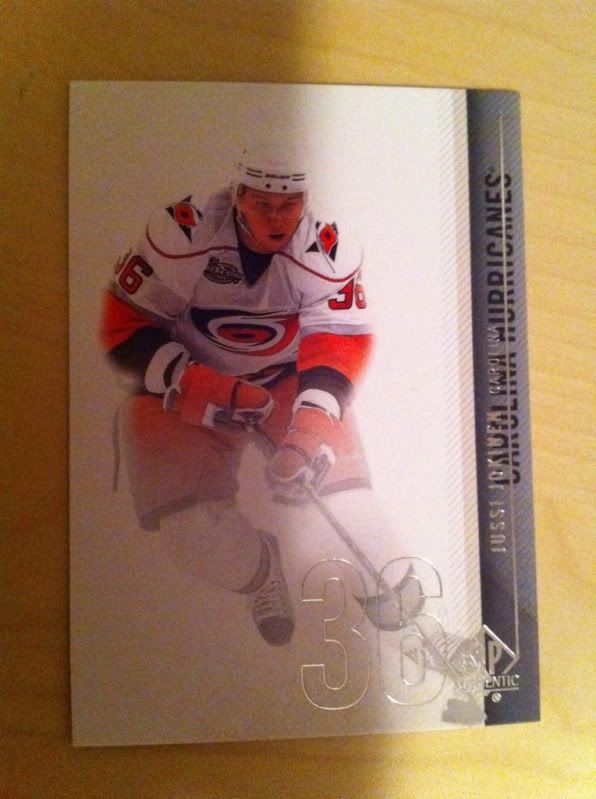 Inserts: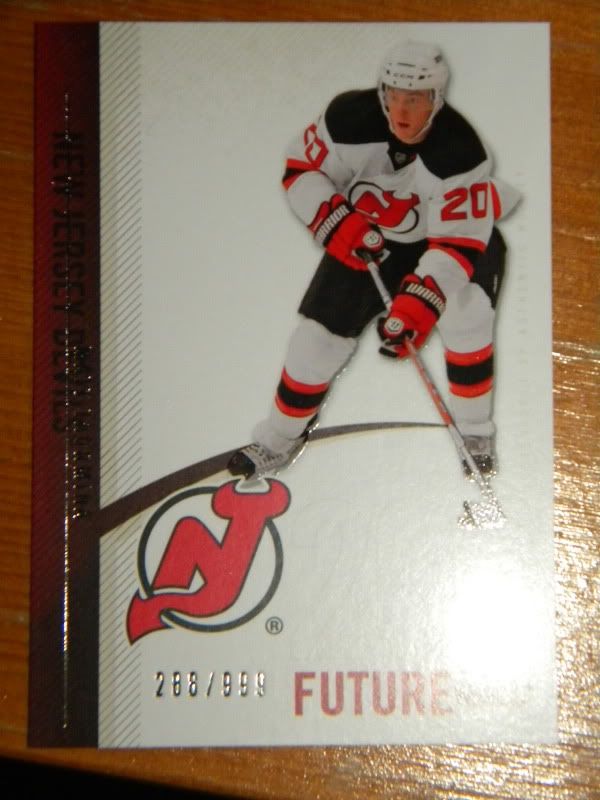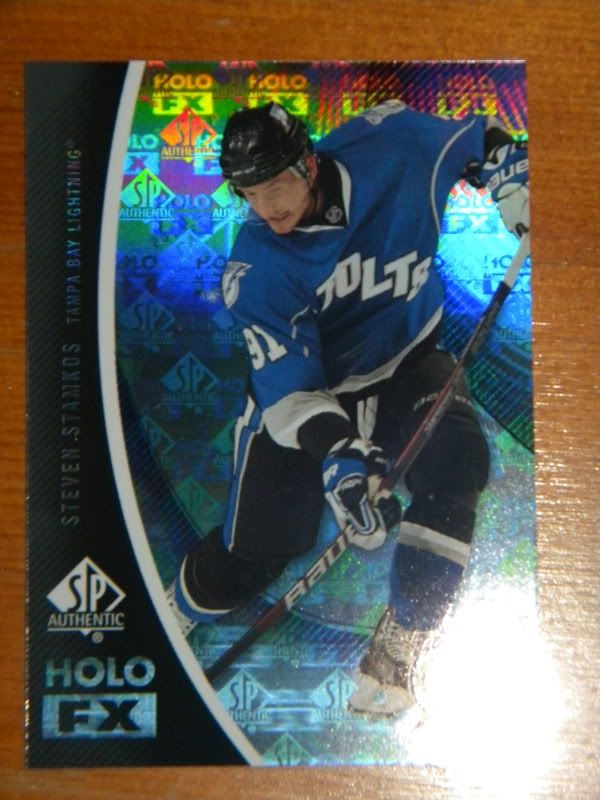 Autographs:
Design:
Honestly, although the design is crisp and clean as I mentioned earlier, the more I look at it, the more it bores me. The white background and just a sliver on the side with the player's name isn't enough for me. I want to see something that I can't do in PhotoShop. The Holo FX looks great. The colors correspond with the player's team and it looks awesome when triggering the hologram. The SP Essentials is essentially black and white with some ice blue. Sure there is a little head on the open part of the card but you can barely see it, it looks like just a wide open space. Maybe that's it with this set, too much wide open spaces. It's good for the autographs but if there isn't an autograph it's boring. Maybe it's just me, but I've seen SP Authentic sets in the past do better and I was expecting something along those lines.
Checklist:
You can't beat the checklist. Do you want the best rookies or just some rookies from your favorite team? Got it. Do you want you favorite players or just some regular players from your favorite team? Got those too. Do you want legends like Gretzky, Orr, and Howe? Got it. Patches and autographs of all of the above? Got all of that. What more could you possibly want from a checklist? Upper Deck has the best exclusives which makes their checklists amazing and filled with future, current, and past stars. You just can't beat that.
Value:
The box goes for around $90 right now. For 3 or 4 autos that isn't a bad price. Especially when you can pull a Gretzky, Crosby, Ovechkin, or any of the fabulous rookies this year. I would of given this 5 stars if it weren't for some of the filler autos. Some of the autographs make me shake my head, but in the end someone will want them somewhere. Plus I gave the checklist a perfect score so I shouldn't be complaining. SP Authentic is always the best place to find rookie autographs at a reasonable price in which the cards maintain their value. That's the best part about this set. You get value almost every time you open a box.
Overall:
Imagine where this product would of been if the design was amazing? That's the only thing really holding this back from getting an overall 5 stars. The design is lacking this time around. Yes it's crisp and clean and really features the player but the plain white background isn't enough for me. The checklist is amazing as Upper Deck has the best exclusives so you can't go wrong at all with what you could possibly hit, and I've seen some amazing ones. Value is always top notch as it is the best product for rookie cards season in and season out. I'm disappointed I couldn't give a perfect score, but I guess there is always next year.
And here is the box break video with an EPIC opening scene. I really enjoyed creating this one so I hope you like it: