Well I was hoping to bring a nice surprise retail break today of Gypsy Queen since everyone else is doing it, but Fred Meyer did not have any Gypsy Queen to be had. Sorry, I'm not going to drive a half-hour to try Target or go get shot at my Wal-Mart 20 minutes away. So with no Gypsies or Queens to be had, I pocketed the money to wait. There was a plethora of 2010 blasters available at my disposal, but nothing I really wanted. Oh, and NO HOCKEY! Why do I have to live in a state without any hockey love. Our WHL team is in the finals and they can't even fill the lower bowl at the Rose Garden. So, my attempt to bring Gypsy Queen has failed.
So that leaves me with pretending I had cards to open. I was stuck looking at previews of products soon to come out. Sure, I have a little money in my PayPal account but it'll take forever to get a hobby box here. Plus, I WAS going to save the majority of it for a couple boxes of 2010-11 Upper Deck Ultimate hockey but it was delayed…again, like every other Upper Deck product. I think it was pushed another month to June 24th. Same thing happened when I wanted to buy The Cup last year. I had the money available and they kept pushing it back. I ended up spending the money on something else.
Okay, I'm done ranting on that.
But a good thing did happen today. After I got home from failing to find some GQ, I looked in my mailbox and received a package from Panini. In March, I had opened a box of Certified hockey up in Edmonton and did not receive the correct number of hits. I've never requested a replacement before as I figured it was just luck of the draw but this time I did. I sent in all the information and my replacement was received today. It was this: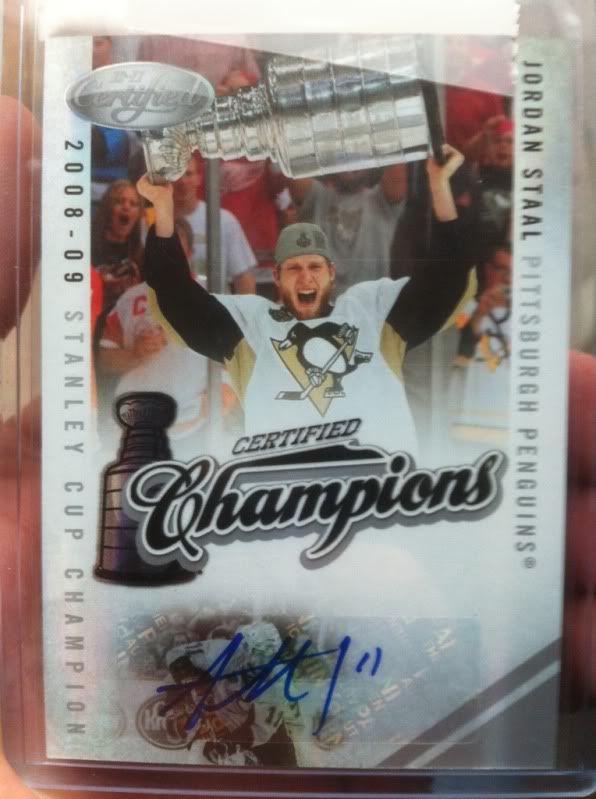 2010-11 Certified Certified Champion Jordan Staal Auto #/50
Not bad for a replacement, wish it was his brother Eric though. It's definitely better then nothing and I thank Panini for sending me the hit I was missing in my box.
Speaking of boxes, I really want to open some boxes. I want to open one hobby box from each sport and review it here, preferably using each of the major card companies. So I need ideas. I also wouldn't mind just one from each card company so we can see what each one brings to the table.
I would like at least one Topps, one Panini, and one Upper Deck. If I have anything extra I could try some ITG too. What should I review? Let me know your thoughts.