I needed eggs. We finished up our carton last night and it was such a beautiful day today, I offered to drive over to the store and pick up the much needed protein. It takes me 10 minutes to find the eggs, meaning I probably shouldn't be in a grocery store. But there is a great part of this grocery store. This store contains blaster boxes of cards.
If you follow me on Twitter you may have seen me post that I finally found 2011 Topps Gypsy Queen baseball. In actuality, I found 3 blaster boxes. I decided to take 2 and leave 1 for the next customer. Now I can finally see what all this hype is.
Box 1 featured 4 Red Sox cards:
Jacoby Ellsbury, Adrian Gonzalez, Jimmie Foxx, and Babe Ruth. Babe Ruth is actually in a Red Sox uniform and is a short print! Of all my Red Sox cards, I don't think I own one Ruth in a Red Sox uniform so that excites me. The other short prints pulled were Jay Bruce and a Brian McCann mini. I also pulled a mini red back of Matt Kemp.
My inserts in Box 1 were as follows:
Future Stars: Mike Stanton, Neftali Feliz
Sticky Fingers: Derek Jeter, David Wright
Home Run Heroes: Jose Bautista x2 (really Topps?)
Wall Climbers: Mike Stanton, Franklin Gutierrez
The Great Ones: Mickey Mantle, Robin Yount
Finally I hit a Gypsy Queen, Havalia. While at first I didn't care about these cards, I must admit they can be quite entertaining. Have you actually read the biographies of these gypsies? Here is Havalia's biography:
I also have had damaged goods. However, when she tried to turn me into a wild boar I left her.
Box 2 featured 3 Red Sox cards:
Kevin Youkilis, Lars Anderson (RC), and finally a Dustin Pedroia mini. Lars Anderson seems to be haunting my pulls in baseball recently. While not necessarily a bad prospect to have haunt you, his real rookie cards were a few years ago. Plus he'll be traded eventually as he is sitting behind another guy I pulled, Adrian Gonzalez. My short prints from this box were Carlos Pena, Freddie Freeman (RC!), and a Brett Sinkseil Black Mini (RC). Why couldn't it have been of Freddie? My red back in this box was BJ Upton.
My inserts in Box 1 were as follows:
Future Stars: Gordon Beckham, Ike Davis
Sticky Fingers: Jose Reyes, Brandon Phillips
Home Run Heroes: Johnny Bench, Carlos Pena
Wall Climbers: Franklin Gutierrez, Jason Heyward
The Great Ones: Ty Cobb, Jackie Robinson
My Gypsy Queen is that hottie Oriana. With looks like those, I can imagine how many men she may have turned into wild boars. Let's see: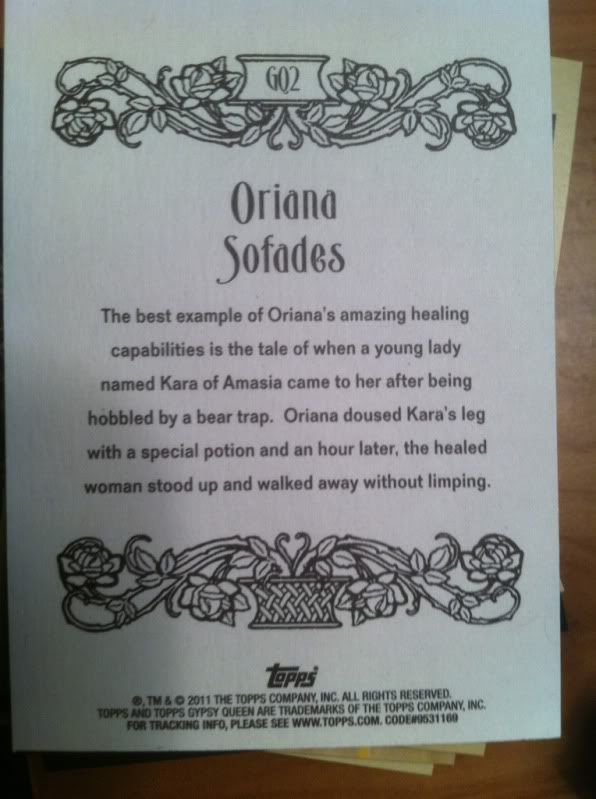 Well that's not very climactic. Although I wish she could rub some of her magic potion on some of these retail boxes I've received lately. I haven't hit a GU or Auto in a blaster box in God knows how long.
I probably should of bought that last one too.
But in all, Gypsy Queen is Allen & Ginter without all the non-sports cards (except those Gypsies). The design is okay, but the photos of the players end up looking really good and like canvas. I'm just happy I didn't pull an autograph of a Gypsy. I might buy some more boxes but odds are with hobby boxes around $150, it's definitely not going to be hobby.
If anyone needs base to complete their sets, let me know.