Secretly, I love to get Through the Mail (TTM) autographs. I'll be honest, I am usually too lazy to send out a picture and fill out postage and return postage to get it out to the post office. The wonderful thing about today's celebrities and athletes is you can always find information online how to contact them through email.
Personally, when I want to email someone or send something TTM I use Sports Card Forum's TTM Manager. You can register for Sports Card Forum here and then go to the TTM Manager and look up thousands of athletes and celebrities for free. Included is both mailing addresses and email addresses!
This is how I found Tony Dungy a couple of weeks ago. Well, the wait paid off and yesterday afternoon I received this.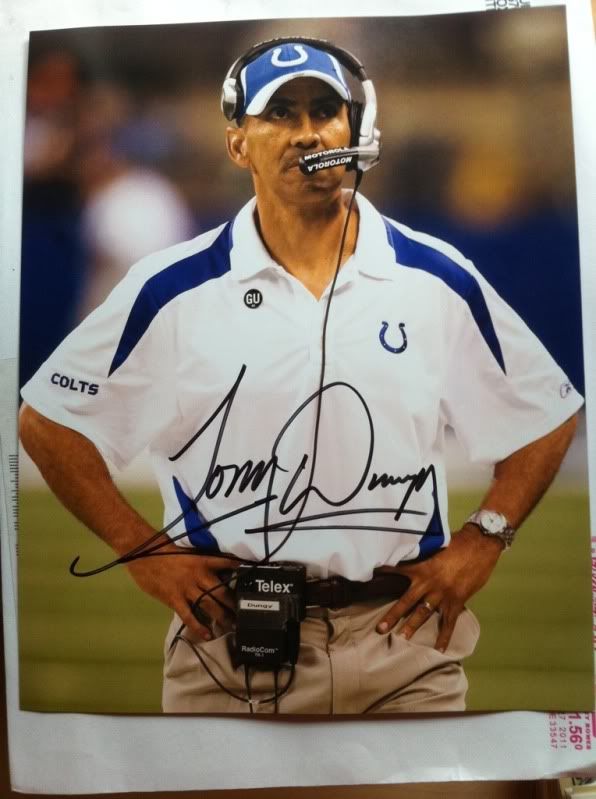 A free autographed 8×10 by a Super Bowl winning coach and great mentor to people around the world. You can't complain about that. The autograph is centered and is crisp and beautiful. It is not a pre-print or auto pen as I've compared it with others. It really is a great piece of memorabilia.
Thank you Coach Dungy and keep up the good work you are doing outside of football and I hope to see you on the sidelines again one day (especially back with my Buccaneers).