This may be rough, but it's honest and that's the way I'm going to keep it.
This is a review of 2010 Upper Deck World of Sports provided to me by Upper Deck. The video of the break is at the bottom. But first a little back story on how I got the box. Upper Deck had a contest on their Facebook page located on the Upper Deck official Facebook page. Check out the link and Like them for a ton of contests and the chance to win free stuff. Anyway, the contest I entered was called the "most different box break". At the time I had a box of 2009 Exquisite Football and happened to be going on a trip. So what do I do? I open the box of Exquisite in the middle of the Atlantic Ocean on the cruise ship. I use the word Exquisite alot, promote the Upper Deck Facebook and Upper Deck, it was alright. A month or so later I get an email from Chris Carlin, their Marketing and Social Media dude saying I won. Awesome, I had no idea what was I would be getting. I ended up receiving the 2010 SP Authentic Football box that I reviewed and Upper Deck World of Sports which I am reviewing now. I decided in both videos to do something a little "different" hence the little pre-break show. My acting is terrible and I have a playoff beard. The video is at the bottom, but on with the review!
Upper Deck lost it's license on several professional sports over the last couple of years and decided to come out with a set of a mix of all sports creating this, World of Sports. Featured in this box are a ton of sports from baseball and basketball to BMX and Lacrosse and everything in between. All main sports are in college or Olympic uniforms so it really is a wide range of cards. The cool thing is your can pull an autograph from pretty much everyone in the base set from Tiger Woods, Stephen Strasburg, Michael Jordan, Sidney Crosby, Taylor Hall, the list keeps going. Every box contains 2 autographs, 1 game used, and 1 Clear Competitors numbered insert which is an acetate card. Here is what I pulled.
Base:
Autographs: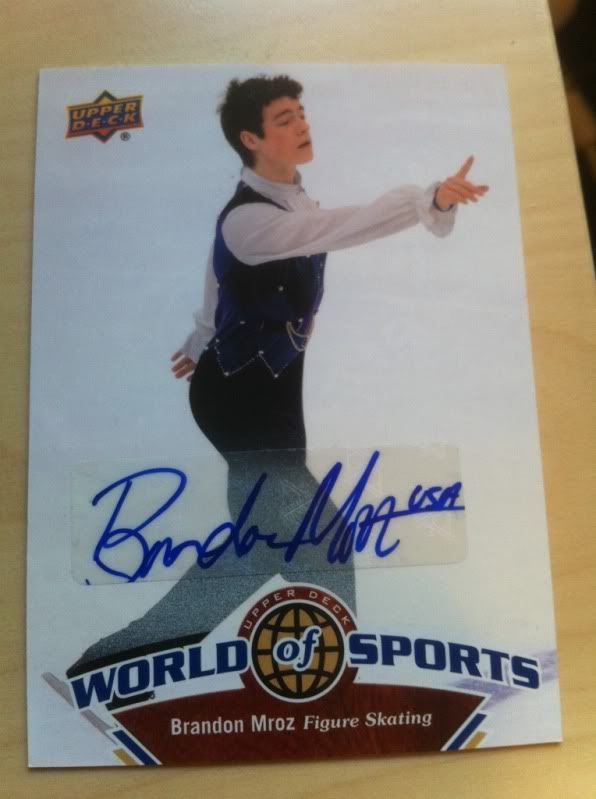 Game Used:
Clear Competitors: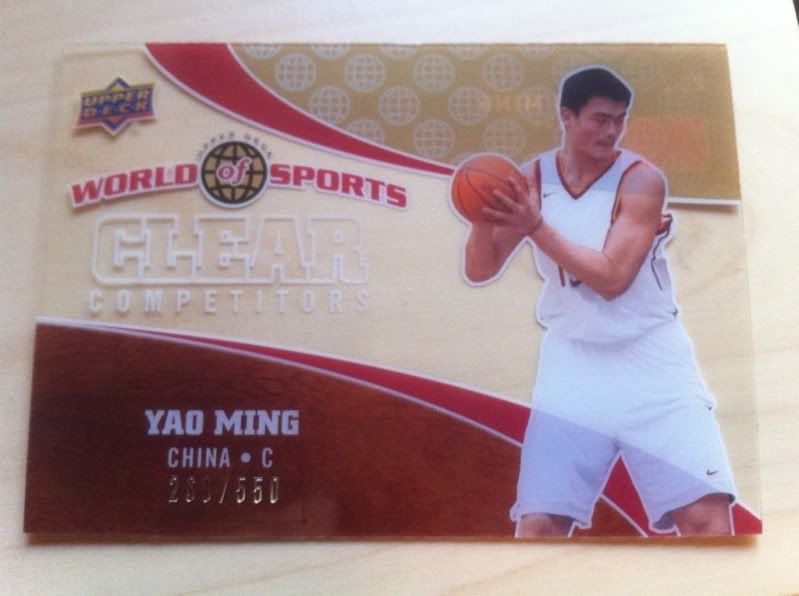 Design:
This would of been a 4 star rating had there not been an Athletes of the World subset without any pictures on it. I assume it has something to do with not being able to secure image rights on the person. If not, there really isn't an excuse for a card with just a sticker autograph on it. Other then that, the photography is solid and the designs are crisp. I'm a sucker for acetate cards and have been since I was little and the first time I opened a pack of acetate cards. The autographs are sticker autos (ew) and I think the cards would look better had they been hard signed. I like that there is only one game used per box as game used is kind of a dying breed of cards and the design is what you'd expect from Upper Deck.
Checklist:
When you open a pack and don't recognize a name on the pack, that is a bad thing. I know sports, I'm a fan of the 4 major sports plus I know all the stars from soccer around the world. But when you open a pack and don't know a name, that is kind of depressing. There are 400 regular cards in the set, so you can see how many athletes there are that you probably will not know. Since every person has an autograph, your odds of pulling something of someone you know are lower. Luckily, I'm a Portland Trailblazer fan and know who Armon Johnson is or else I would not know who anyone was (except Yao, of course). Honestly, I don't know what to say about some of the names added. How many names were just thrown in to fill the set out? The sell sheet says to look for some of the best from extreme sports but where are the snowboarders and skateboarders? I didn't pull any, just a Matt Hoffman BMX card. The X Games are huge around the world, but some of their athletes were not represented well.
Value:
Go huge or go cry yourself to sleep. You can pull a huge name or a bunch of names you have never heard of. That seems to be what this box consists of. Where is the medium level talent that people have heard of? With the current price of this box at $60, I really can't justify that price if most boxes are like this. The card stock is ultra thin, the checklist is sub-par and could be better, and some autographs don't even have the person's picture, but I guess the Clear Competitors fall one per box so they don't over do the inserts. That isn't enough to bring the value up to a 2 and I was even lucky enough to pull an extra autograph. I don't see the value here, maybe I'm missing the point?
Overall:
Well the design is there and features the players more than anything else, which is a good thing. Autographs on stickers are common even though people are starting to dislike them more and more. The checklist is bad and could have had so much more potential to be a great and fun product. Pulling cards of people you never heard of really hurts this product, especially if your hits are all people you haven't heard of as well. It hurts to open this and I didn't even spend any money on it! Well I guess my Exquisite paid for it, but most people would be spending real American or Canadian dollars on this and I have a feeling that most won't be too happy. I love what you are trying to do Upper Deck, I really do, but this could have been so much better.
As promised, here is me making an idiot of myself opening this box:
And finally, you'll understand this if you watch the video.