2010-11 Panini Contenders, after delay, is finally here.
2010-11 Panini Contenders hockey marks the first time that Contenders has ventured over into the hockey area. Overall, I would call it a success. With every rookie autograph signed on-card, this is going to be Panini's best product for rookie autographs for years to come.
Panini Contenders comes with 4 autographs in a hobby box, at least 3 of them are those hard signed rookie autographs. There is no game used relics in this product as it is strictly an autograph only product, which I enjoy. Game used relics have become too common in this hobby. A lot of people like to see some, especially patches, but I don't think this product would be any better with game used relics. It's great the way it is.
Base:
Some of the cool inserts: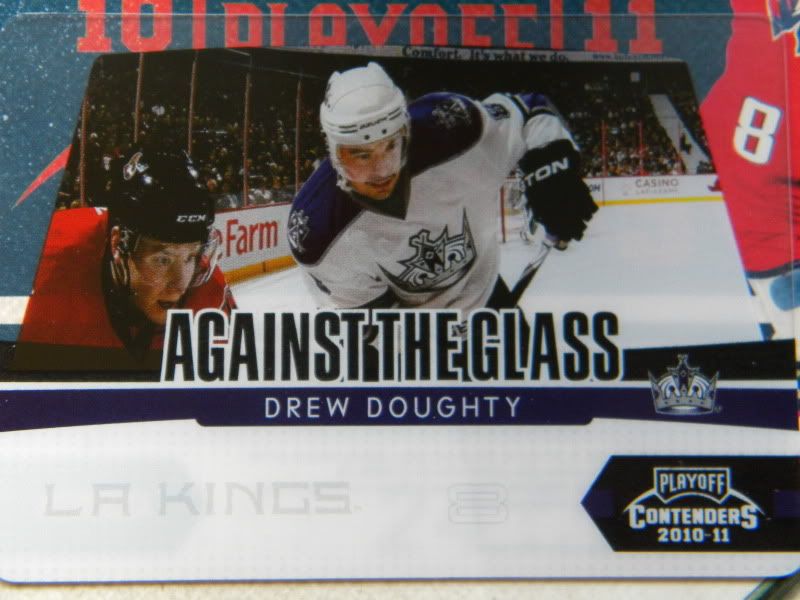 Autographs: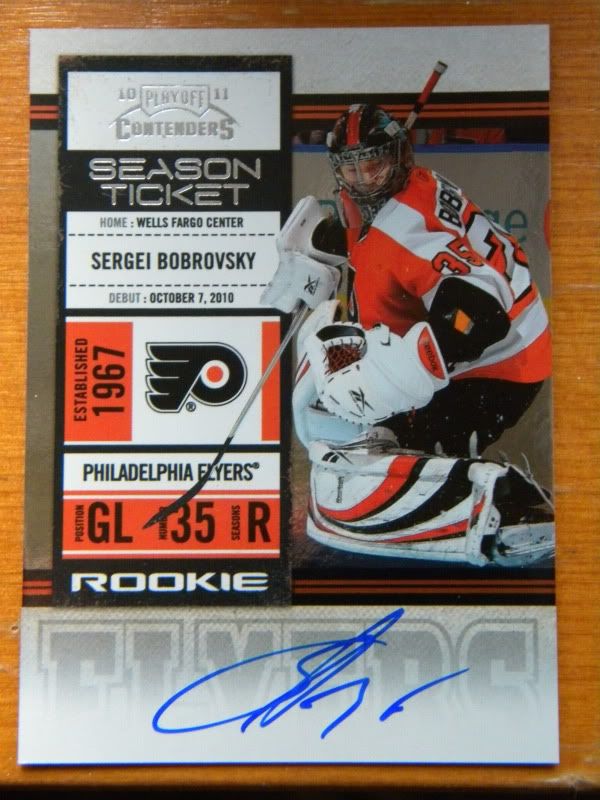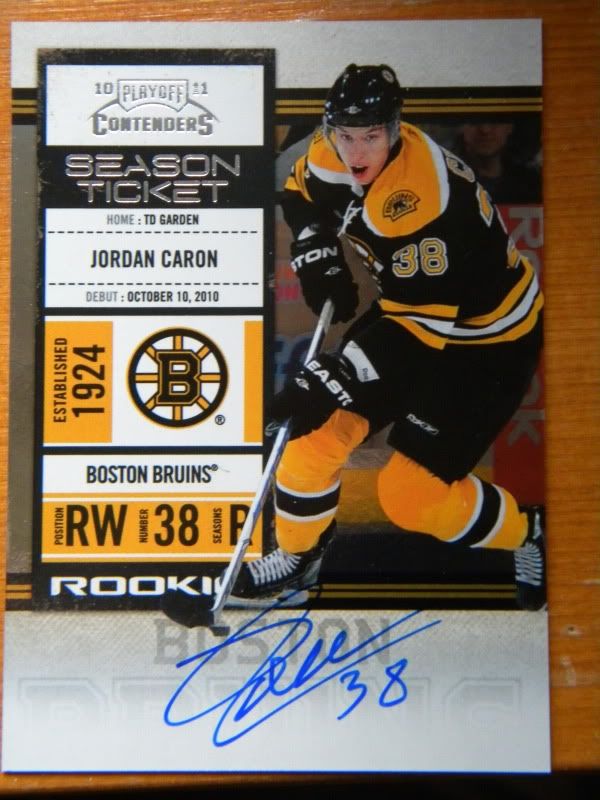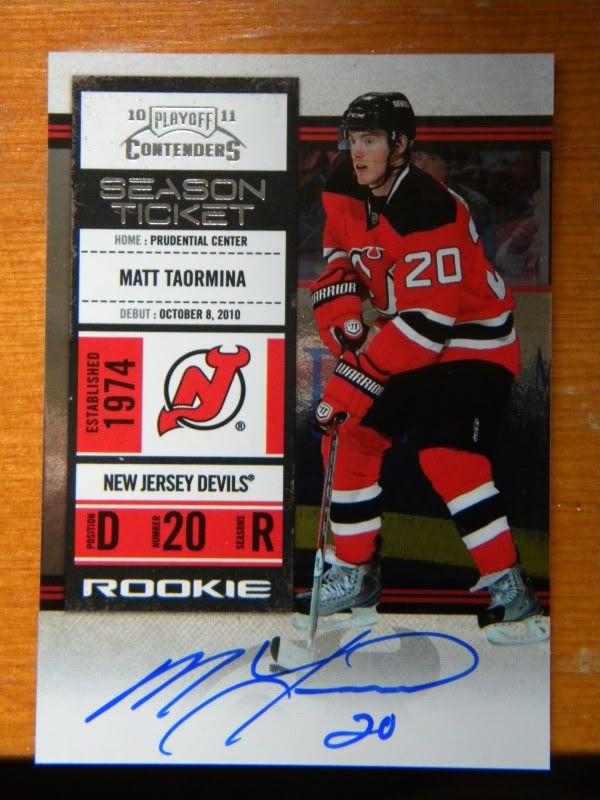 Design:
The base design of this set is fabulous. As I stated in my review video, I love the ticket design on base cards. It's nothing revolutionary by no means and has been used by several companies for years. But it looks clean and it works. Another great aspect is the room for on card autographs. On card autographs are the way to go with the rookie autographs and I would like to have seen the whole set as on card autographs but this is a step in the right direction. I'm not a huge fan of the foilboard insert sets (except the base parallel) but the cards look solid and would look okay with sticker autographs. I want to say I love the acetate Behind the Glass insert set and the Leather Larceny set is something new as well. Both insert sets are great. If I could recommend something else, I would make the frame on the Winter Classic insert set smaller to really show the great photography those cards bring to the table. Overall, it deserves a high grade.
Checklist:
I think the checklist is solid. A large amount of rookies are found in this product as well as the 100 card base set featuring the stars of all your favorite teams. I like a smaller base set as it makes completing a set a little easier for those who may only be able to afford one box of a product. I only missed 2 cards to complete the 100 card base set in my box, which is a good sign. I did have 5 dupes, but that is understandable with a smaller set. I didn't have any collation issues that other have been reporting so I can't hold that against them in my review of this one box. I think the Legendary Ticket set may be a little too big since you only get about 1 of those a box. I like inserts and this set is loaded with them. You have your hard hitters in Behind the Glass, your stars with the Award Contenders, and more rookies with your Rookie Contenders. Plus, who doesn't want a little goalie set to support the men who have pucks shot at them? Overall, there is something for everybody.
Value:
The value of this box is obviously hit or miss. But I've seen a lot more misses then hits. You get four autographs a box which is nice. I would put this product on par with what Upper Deck brings with SP Authentic. However, this box is $30-$40 more then that product. I think this product is over priced for what it is. If they throw in an extra autograph of one of the insert sets I would think the price was about right, but with a product containing at least 3 rookies, sometimes 4, I think the value should be a little bit lower as you may not hit an established player. I understand that some of these rookie tickets will be short printed as well, but not knowing that when the product is released doesn't help the value. I also believe that all inserts should be serial numbered, but they will still probably fall into the same range as price is concerned on the secondary market. Drop the price down a bit, put it on par with SP Authentic, and the value will be perfect for this product.
Overall:
Finally a product that is on par with SP Authentic. You may not be able to pull any autographed patches in this product, but the autographs are a plenty and the insert sets are definitely better then SP Authentic. The design is solid, although has been used for a long time. It works though, which is a positive. The checklist is chock full of stars, rookies, and retired players so I think just about everyone will be happy with the possibilities they could pull. I love the 14 karat gold card promotion, although I didn't get one this time around. There are only 20 but they are definitely great chase cards. This is a great start for Panini using the Contenders brand. I really hope they decide to keep this in their product run for the next season as it was a lot of fun to break, just lower the price a tad or add another autograph.
Here is the video break so you can see everything. Make sure to subscribe to our channel.