Mary Riley of Benchwarmer says Happy Father's Day in this card. It is from 2009 but forget about that, it's Mary Riley.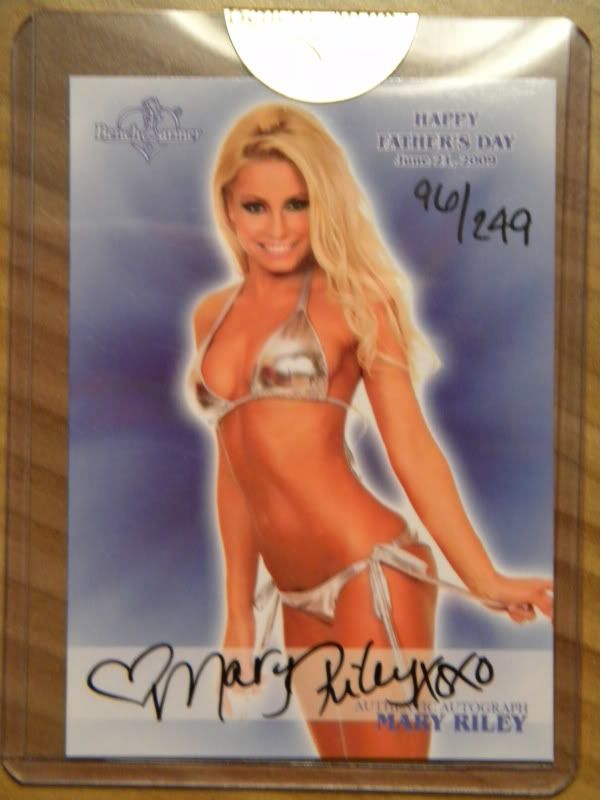 This Father's Day surely is a great one for all you fathers out there. For one, if you're reading this post, you get to see the beautiful Mary Riley in a Father's Day commemorative card.
Secondly, there will be a ton of great inter-league baseball for all you dads to watch this afternoon into the evening hours.
Third, if you aren't into baseball you're surely into golf. You can watch the final round of the US Open and see if Rory McIlroy can hold his lead at this major tournament this time around.
Finally, when the sun goes down it will only get hotter when the 2011 Miss USA Pagaent will be live on NBC.
What a great Father's Day lineup for dad to sit home and enjoy the best things the world has to offer for men. Sports and women. While you're at it, make it even better and crack open a couple cold ones.*
*If you're of legal age: 21 in the US and 18 everywhere else that has their heads on straight. Otherwise, have yourself an O'Douls or root beer.
While I am not a father as of right now, I will be enjoying all of these things as the fiancee will be working.
And remember to support prostate cancer awareness on this day. If they find a preventative cure, you will no longer need those special appointments where you are afraid to look at your doctor afterwards.