It's right before the NFL draft which means one of the last products of 2010 has been released (March 2, 2011) and it's the one that collectors clamor for the most, 2010 SP Authentic Football. I recently broke a box of SP Authentic Football before I created this blog and thought it would be a great first break and review for those who love football.
As many know, Upper Deck has lost its license to produce NFL trading cards. To keep their hold in the football market they received licensing from the NCAA and have produced several nice sets featuring both rookies and veterans in their college football uniforms. While some cards don't look as crisp due to the lack of photographic technology back when they played in college, the cards look just as good as the products featuring players in NFL uniforms. Here are some photos of SP Authentic cards from my break. At the bottom I will post a video of the break, however, to be honest, the box break part sucks. It had bad angles, lack of decent descriptors on my part because I had been awake 24 hours, and my camera ran out of batteries. But I think the pre-break festivities I recorded were solid.
Base: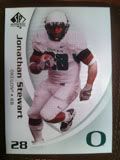 Rookie Authentics /999:

Rookie Authentics Autographs /599:

Rookie Patch Autograph /499:

Design: 
I have always loved the design of SP Authentic throughout the years. Even though the design may seem repetitive or very similar to designs of past years, the design is still appealing every year. This year has a solid white background with circular designs on each side of the player who is centered in the middle. What I really like about circular designs on each side is that they use the team colors as the color of the design. On the left is the player's name written vertically in gold foil, which looks real sharp and makes it stand out. Great design work.
Checklist:
When looking at the checklist for this product, you feel like you can pull just about any of the top rookies or players from your favorite teams. Since the loss of the license, it would definitely appeal more to the college collectors but also I think the player collectors get a real present. There isn't many NCAA licensed cards out there and getting a player in a college uniform definitely changes up the collection a little bit, in a good way. As always, there are a ton of autographs to pull as well as autographed memorabilia cards. With plain game used seemingly turning into overproduced commons, it seems as if autographs and autographed memorabilia cards have taken the forefront as to what players want the most. The sickest patch, lowest number autograph, all of these are high on collector's want lists. You can pull regular rookie autographs as well as retro rookie autographs which features superstars and hall of famers in their college uniforms. The checklist of names is long, but it's also full of depth and value.
Value:
SP Authentic cards, specifically the rookie autographs, hold their value better than most other products out there on the market. The patch autographs are some of the most sought after autographs by rookie autograph collectors. With 3 autographs guaranteed per box (1 being an autographed memorabilia) and the $100-$120 price tag, you can pull some real gems. I really haven't seen many terrible boxes of this product if you look at the names pulled, but it's always possible. The only gripe I really have with this product is actually a huge one. Mike Williams. The Mike Williams drafted this past year who plays for the Tampa Bay Buccaneers and played at Syracuse is NOT the same Mike Williams as the one who plays for the Seattle Seahawks and was drafted in 2005 out of USC, I believe. Whomever was responsible for quality assurance missed a huge mistake. Mike Williams (USC/Seattle) autographs have been spotted all across the product on Mike Williams (Syracuse/Tampa Bay) cards. Now maybe it bothers me more because I'm a Tampa Bay fan but this is unacceptable. I heard Mike Williams (TB) has been tough to get autographs from lately, but throwing on autographs of the other Mike Williams (SEA) isn't the answer and he's not the same person. I really hope Upper Deck replaces every last one of those cards, especially since it guarantees the authenticity of the autograph. It's not Mike Williams' (TB) autograph, therefore, it is not authentic. Other than that, I don't see anything else that would hurt the value. Well I do, manufactured patches, but it seems as though those are here to stay in all products from all brands.
Overall:
Overall, SP Authentic brings you closer to the college game than has ever been seen. These are some of the hottest rookie cards on the market with the great patch auto hits you have the possibility of pulling. The visuals are stunning year after year and they change it up just enough to feel fresh but maintaining what makes it great. Simplicity. Despite a couple of screw ups, SP Authentic should be tops on your list of football boxes to pick up to complete your 2010 football purchases.
Here is my video, sorry for the epic fail:

What do you think of 2010 SP Authentic Football?